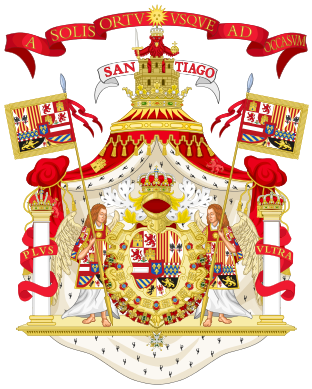 The Spanish Royal Family is the most powerful family on Earth, in control of The entire Spanish Empire. At the head of this family is none other than King Phillipe V Clemente of Spain and France. The Royal Family is spread throughout The World with a member or more stationed in most regions of The Spanish Empire. The Spanish Royal Family was created in 1623 when Alfonso Clement Petalbee united The House of Castille and began "The Reconquista". Since then, it has grown dramatically and as of 1746, there are over 50 people with ties to The Spanish Royal Family.
Members (As of March 1746)
Edit
King Phillipe V Clemente of Spain and France
Queen Isabella V Clemente of Spain
Queen Grace Goldtimbers of France
Pope Benedict XIV
Empress Hannah Bluefeather of Austria
Cardinal Johnny Goldtimbers
Prince Ben Squidskull of Spain, France, Naples, and Sicily
Princess Jade Stormfury of Spain and Naples
Princess Stardust of France
Prince George Sailward of Spain
Duke Jason Brawlmartin of Russia
Duke Jack Darksteel of Sweden
Duke Hannibal Clemente I of The Ottoman Providences
Duke Samuel Cresteel of Nueva Espana
Duchess Grace Redskull of Portugal
Duke Samuel Ironshot of Venice
Duke Hector Pillageparr of Bordeaux
(Note, deceased members are not listed.)
Royal Family Portraits
Edit
(Please note that not all members are included in the portrait section as we were unable to find portraits for each member. If you have a portrait of one of the family members listed above, feel free to send it to Isabella V Clemente by leaving a message here.)
Royal Family Tree
Edit
Please note that just as in the portraits, several of the less prominent family members are not shown below. This will be edited in due time to fit in all of the extended members of the family. 

"Spartan Petalbee"





(Spartan)


Deceased



"Pearl Petalbee"

(Madame Pearl)


Deceased



"Samuel Cresteel"



(Ienzo de la Quintana)



"Grace Goldtimbers"



(Duchess of Anemois)



"Phillipe V Clemente"



(Pearson Wright)



"Isabella Clemente"



(Bella)



"Isabella Pondbellows"



(Elizabeth Pondbellows)



"Jade Stormfury"



(Rita)



"Silus Clemente"

(Syko)


Deceased



"Samantha Sunsmythe"

(Samantha)


Deceased



"Lunius Sargento"

(Luuluu)


Deceased



"Hannah Clemente"





(Hannah Bluefeather)


Exiled



"Matthew Darkskull"

(Matthew)


Deceased



"Jonathon Clemente"





(John Macbatten)


Deceased



"Ferdinand Clemente"

(Cadet)


Exiled & Disowned



"Don Roberto Clemente"



(Robert Shipstealer)



Deceased



"Benjamin Clemente"



(Ben Squidskull)



"Emily Hearthawk"

(Emily)


Deceased